| | |
| --- | --- |
| Logarithmic Functions | Click here to open an associated Mathcad worksheet: |
Graphic Representation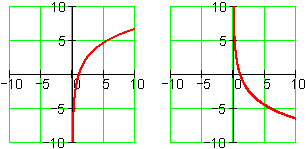 Logarithmic graphs are asymptotic to the y-axis: In the long term, in one direction or the other, they become arbitrarily close to, but never touch, the y-axis.
They live entirely in the half plane to the right of the y-axis.
The curves pull away from the y-axis, increasing at a decreasing rate (less positive) or decreasing at an increasing rate (less negative).
Logarithmic graphs are reflections (mirror images) of exponential graphs. The "mirror" is the line y = x :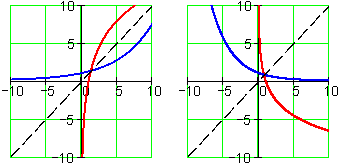 Only exponential functions y = a b x with a > 0 are reflections of logarithmic functions.
Every logarithmic graph has an x-intercept at (1, 0) . Regardless of a and b , a logb(1) = 0 .
The above graphs show just a few of the members of the family of logarithmic functions. To see how these and other logarithmic graphs can be created by tuning the family's parameters, see the associated worksheet.