| | |
| --- | --- |
| Power Functions | Click here to open an associated Mathcad worksheet: |
Graphic Representation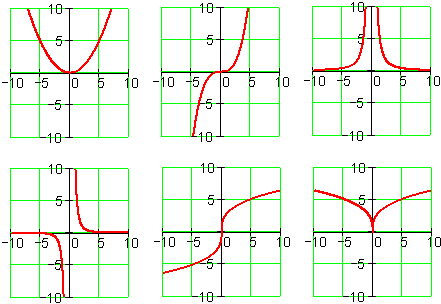 Power functions take many forms.
Graphs of y = a x b are simple forms of polynomials when the power is a positive integer. They are simple forms of rational functions when the power is a negative integer.
Fractional powers provide further forms.
Points where power functions exhibit specific behaviors are described using terminology such as:
Singularity


Inflection Point


Cusp
The above graphs show just a few of the members of the family of power functions. To see how these and other power graphs can be created by tuning the family's parameters, see the associated worksheet.